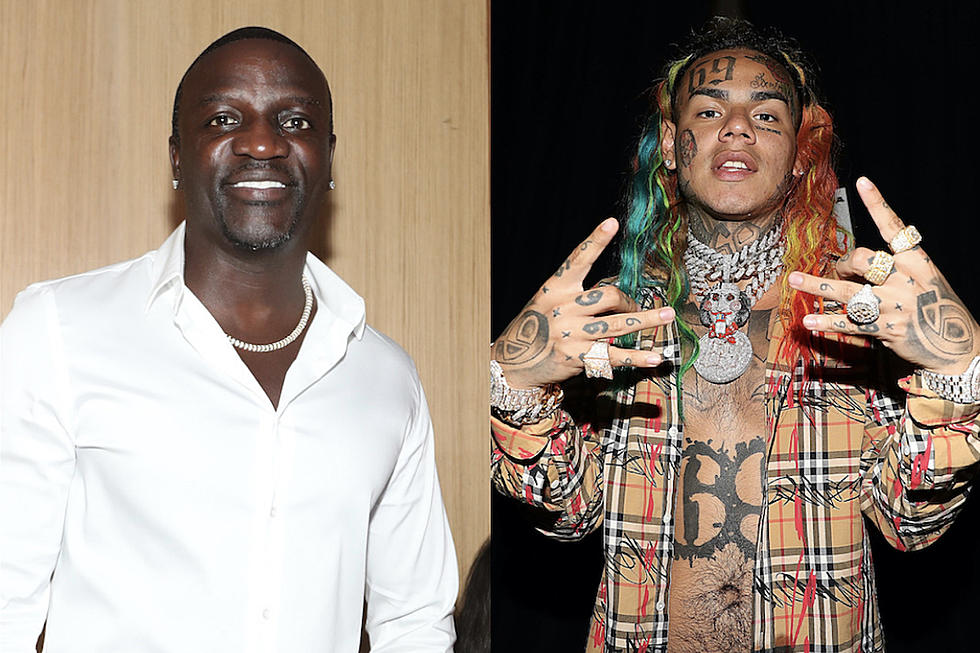 Akon Doesn't Blame 6ix9ine for Snitching
Jerritt Clark / Shareif Ziyadat, Getty Images (2)
In a Capital Xtra interview that was published on Wednesday (Nov. 6), Akon defended 6ix9ine's decision to talk with the feds.
"He comes from a generation that really had no moral ethic," Akon explained. "This generation is nothing like our generation coming up. Our generation, we had rules, there were certain boundaries that you don't cross. There was a certain line of respect that we had for each other. There was always a level of selfishness that we just only kept to our self. Like we never gave up each other for our own freedom because we are expecting him for him to do the same for us."
Akon then offered his thoughts about 6ix9ine's legal situation, which saw the rapper plead guilty to federal charges before testifying against his former Nine Trey associates Anthony "Harv" Ellison and Aljermiah "Nuke" Mack in September.
"Now Tekashi is a little different," Akon said. "I can't really speak on why he would do that. Most likely for the obvious reasons, but everyone goes through something in their life that propels them to do things that they feel is in the best interest of themselves. You can't really blame him if what he is saying is the truth. Now granted there's this big rule that you never talk, you never speak to the police, you don't rat. I get it."
"But, at the end of the day, if it's true, and he said it, it is what it is," Akon continued. "Now if you feel some kind of way that he said it, that's a personal problem between y'all got to do according to what y'all decided what the rules were."
Akon concluded that he doesn't know what is happening behind the scenes with 6ix9ine that made the rapper decide to talk with the feds, but that people need to respect the controversial rapper's decision.
"So that's why I'm not so quick to judge him because I don't know exactly what's happening behind closed doors that may not be explained or maybe out to the public to know," Akon said of the rapper, who dropped off his Dummy Boy project last year. "But as a man, you can only respect somebody that does what they think is best for them and their families. But at the same time you also got to know who you are doing business with if you are going to do something illegal."
You can watch Akon talk about 6ix9ine's situation below. Fast-forward to the 36-minute mark to hear what he's got to say.
See 20 of the Best Self-Produced Hip-Hop Albums of All-Time
More From 105.1 The Block