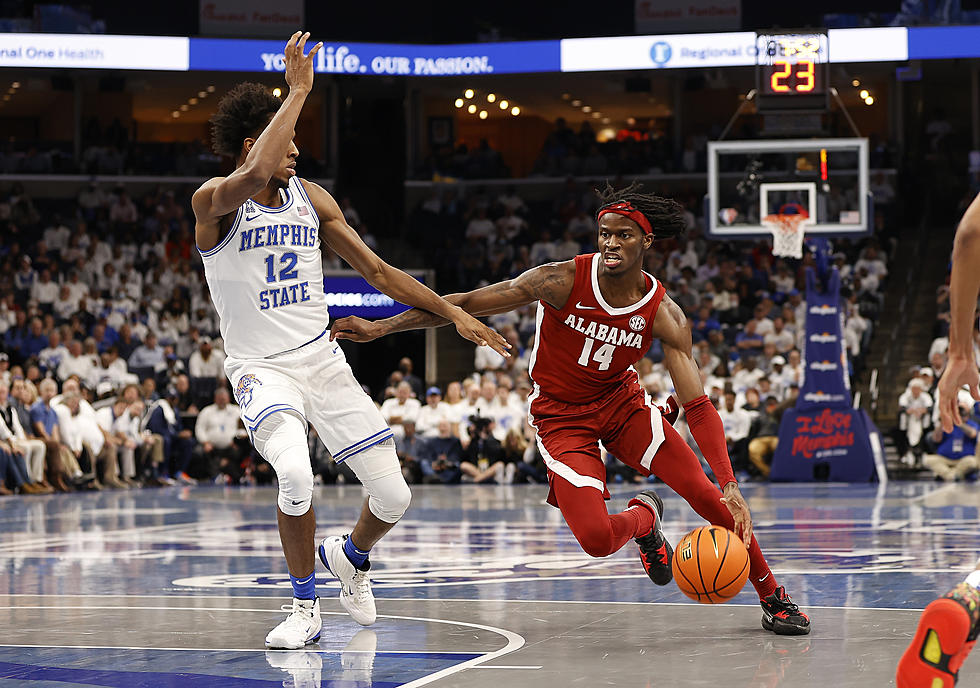 Alabama Falls to the Memphis Tigers In a Midweek Battle
Robert Sutton/CrimsonTidePhotos
The No. 6 Alabama Crimson Tide was upset on the road on Tuesday night. The Memphis Tigers ended its four-game losing streak and Alabama's four-game winning streak by upsetting the Tide 92-76.
"I didn't think we came ready to play tonight and that's on us coaches. I warned our guys that we were going to get their best shot and I think they wanted to make a statement that if they wanted to get this thing turned around, they were going to do it against a top-10 team," said Alabama head coach Nate Oats.
The Crimson Tide was beat for the second straight game on the glass, allowing the Tigers to win the rebounding advantage 33-31. The Tigers forced 20 turnovers and scored 29 points off those mistakes.
"When you look at their schedule, they had one chance to do that, they were at home and came ready to play. I thought out of the gate, our energy wasn't where it needed to be and I didn't think we were locked in. We had multiple guys not play their best basketball game. That's the best Memphis has played all year so you have to give them a lot of credit. We had issues rebounding the ball once again. It's been a major problem, particularly with our bigs. We also had a major problem turning it over. We didn't do a good job in our major points of emphasis. We have got some work to do," said Oats.
Alabama struggled on the offensive end only shooting 30% from the 3-point line, knocking in 10-of-33 from behind the arc and only getting to the free throw 12 times in the evening converting eight.
Alabama's Keon Ellis led Alabama in scoring 19 points and also contributed six rebounds. He was helped Jahvon Quinerly with 12 points and six rebounds but JQ turned the ball over five times on evening.
Sensational freshman JD Davison only added eight points himself but he facilitated the offense well contributing 10 assists.
Memphis stretched a 5-point halftime lead out to a 19-point advantage that ultimately Alabama could not overcome.
Alabama has two more non conference games remaining on the schedule. The Tide returns to Coleman Coliseum on Saturday to host the Jacksonville State Gamecocks at 7:30 p.m. CT.
Radio coverage of the game can be heard on Tide100.9 FM beginning at 5:30 p.m. CT
Alabama Basketball All-Time Scoring Leaders
Bama All Time Steals
More From 105.1 The Block