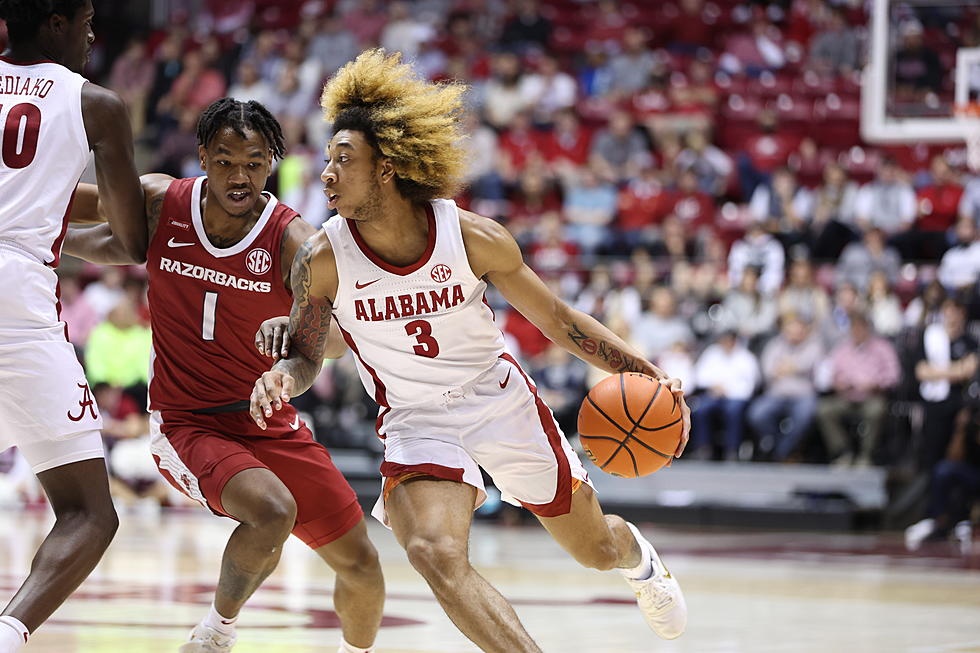 Alabama's JD Davison Earns SEC Freshman of the Week
Crimson Tide Photos / UA Athletics
Alabama's men's basketball team had a successful week, defeating Ole Miss and Arkansas for back-to-back SEC victories. The Tide was aided by two strong performances from 5-star freshman guard JD Davison. His strong effort earned him SEC Freshman of the Week honors.
Davison tallied 18 points, eight assists, three rebounds with a steal and a block against the Ole Miss Rebels. He scored 11 points, four rebounds, four assists with a steal and a block against the Arkansas Razorbacks.
"JD was good, he attacked downhill, he was aggressive. You know, he's a bigger guard. You know, Lykes couldn't really handle his size, they took Lykes off of him and put him on Keon Ellis for some matchup stuff," said Alabama head coach Nate Oats after the victory over Arkansas. "Teams know he's bigger, he's a little more physical, he can come down hill, he's a little bit different, maybe not as shifty as JQ but he's a big, strong, physical guard. You know, he went 2-for-2 last game from 3 he was 1-of-3 tonight so the last three games he's 3-of-5, you know, he's shooting the ball well enough that teams gotta be honest with him."
Davison's strong week brings his season average up to 8.6 points, 4.2 rebounds and 4.1 assists per game for his freshman season.
Currently, most NBA draft projections put Davison in the middle of the first round in the 2022 draft, however should the freshman from Letohatchee, Alabama continue his strong play, he could see his draft stock rise into the lottery.
Davison has struggled this season with turning the ball over but has looked more and more comfortable as his freshman season has developed.
Alabama's Top 10 Athletes - Fall 2021
The Alabama Crimson Tide boasts an extremely successful athletic department with amazing athletes playing multiple sports. The top 10 athletes include national champions, an Olympic athlete, SEC champions and various record holders.
Bama All Time Steals
The 10 Greatest Athletes from Alabama
More From 105.1 The Block