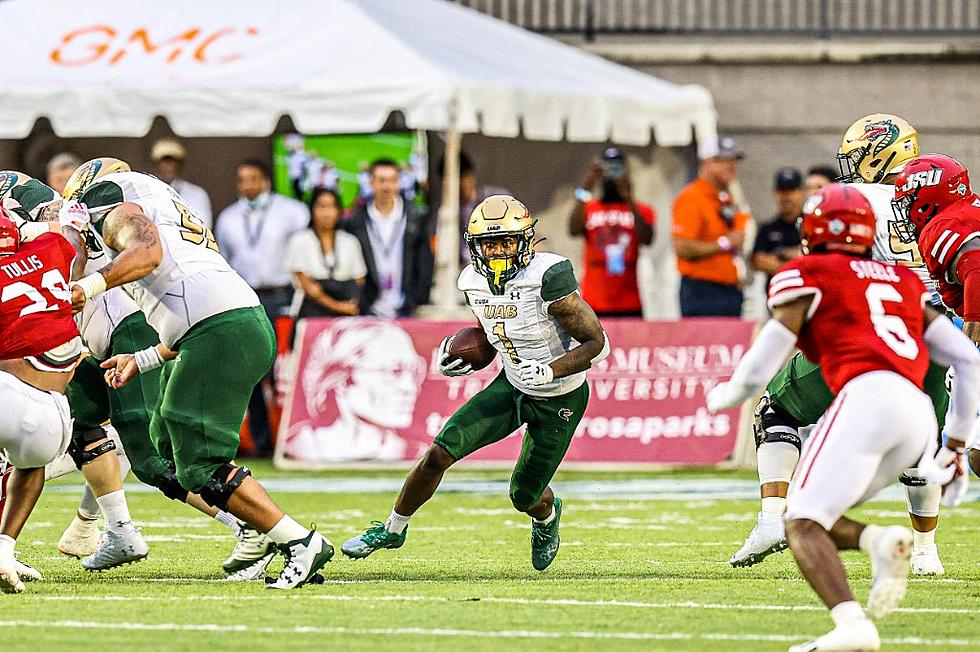 Blazers Shut Out Gamecocks in Wednesday Night Showdown in Montgomery
Photo Courtesy of UAB Athletics
The UAB Blazers defeated the Jacksonville State Gamecocks 31-0 on Wednesday night to secure an opening season victory at the Montgomery Kickoff.
This game started off very slow as both teams were held scoreless throughout the entire first quarter.
The Blazers furthered their momentum on the next JSU drive when Grayson Cash blocked Jack Dawson's punt which led to great field position at the Gamecock 15-yard line. The Blazers tacked on a 27-yard field goal going into the half with a 10-0 lead.
The Blazers fired early on their first possession of the second half as Johnston found Gerrit Prince in the end zone on a 23-yard touchdown pass.
The Gamecocks finally gained some momentum on a UAB fumble deep in JSU territory. The Gamecocks crossed midfield for the first time, but could not take advantage of the opportunity.
The Blazers added one more in the third quarter when Jermaine Brown Jr. earned the first rushing touchdown from 10 yards out making the score 24-0.
The Blazers back up quarterback Dylan Hopkins came out firing in the fourth quarter with a 42-yard bullet to Trea Shropshire with 5:35 left in the game making the score 31-0.

The Blazers continued to dominate on the defense side of the ball and the shut out was preserved. This was the first shut out performance for UAB in three years. The Blazers outgained the Gamecocks 518-155.
UAB faces off against the No. 5 Georgia Bulldogs in Sanford Stadium on Sept. 11.
Jacksonville State travels to Tallahassee to take on the Florida State Seminoles.
The 2021 Alabama Football Schedule in Photos
Alabama Crimson Tide All-Time Receiving Leaderboard
How Do Fans Sing 'Dixieland Delight' in Tuscaloosa, Alabama?
Alabama football fans add
a few extra lyrics
to 'Dixieland Delight' when it's played on the speakers in Bryant-Denny in Tuscaloosa, Alabama. What are they singing? And Why?
More From 105.1 The Block