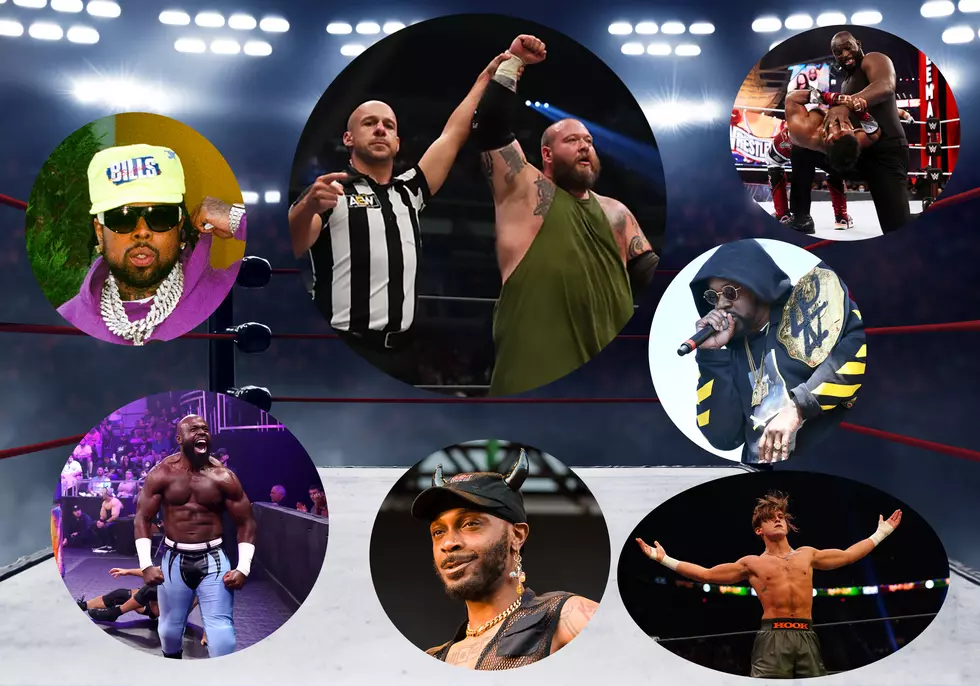 Hip-Hop Continues to Bring Its Talents to the Wrestling Ring in One Way or Another
WWE (2)/All Elite Wrestling (2)/Mauricio Santana/Scott Dudelson/Getty Images (2)/SnapGod
Slam
For three decades, hip-hop has made its mark on the world of professional wrestling. The relationship only continues to grow as more rappers hit the mat and wrestlers support the genre.
Words: Peter A. Berry
Editor's Note: This story appears in the Winter 2022 issue of XXL Magazine, on stands now.
Action Bronson saved one of his biggest fans from certain doom this past September. In front of a raucous crowd inside NOW Arena in Illinois, the New York rapper, whose been on a weight-loss journey over the last few years, climbed into the ring to protect All Elite Wrestling (AEW) newcomer Hook. The AEW wrestler was ambushed by "Daddy Magic" Matt Menard as he faced off against "Cool Hand" Angelo Parker in the wrestling promotion's FTW Championship match. Combining a showman's knack for theatrics with the explosive power of an offensive lineman, Bronson quickly corralled Menard and Parker before slamming each of them to the ring's snow-white surface, securing both Hook's safety and title belt. For Bronson, it was the culmination of decades of wrestling fandom and plenty of intense training. For Hook, who'd been a fan of the rhymer since he was in middle school, it was hard to believe.
"It was surreal as f**k," shares the 23-year-old wrestler, who joined AEW in 2020. "That's the best way to put it." With its blend of soap opera-like drama, high-octane action and outright showmanship, that's also not a bad way to describe the world of professional wrestling, which has become increasingly interconnected with hip-hop as the years have gone by. Bronson, whose 2017 track "The Chairmen's Intent" is Hook's AEW theme song, is just one of the latest members of the hip-hop community to bring their talents to the ring in one way or another, a tradition that stretches back more than 30 years.
The first major crossover event was conceived as a birthday present in 1989 . In a 2019 inter view with media outlet Sportskeeda, Run-DMC member DMC, aka Darryl McDaniels, explained that their road manager knew the rapper was a Hulk Hogan fan, so he picked DMC up from home and took him to Trump Plaza in Atlantic City, where Wrestlemania V was all set to take place. "Jay and Run knew nothing about what was going on," DMC recalled. "The [WWF was] saying, 'Run-DMC, they're gonna come? Can they do us a favor?'" That favor was performing for Wrestlemania. By the end of the night, Run-DMC had taken the stage, and just as they had collapsed the walls between rock and hip-hop with an Aerosmith collaboration in 1986, the trio had helped expose a new and overlapping audience to rap culture. In the follow ing years, the trend would only expand.
In 1995, Salt-N-Pepa hit up Wrestlemania XI to perform "Whatta Man" in support of NFL superstar Lawrence Taylor's pro wrestling debut. Four years later, Master P and his No Limit Soldiers signed a contract with the WCW wrestling league, which saw Master P's custom wrestling squad show spectators how 'bout it they really were. The artists also hit the ring to perform. These days, rappers like Bronson, Trina, Kevin Gates and others have also jumped into the ring to prove their mettle as wrestlers. Naturally, the rapper-wrestling connection goes beyond the ring, too.
On Method Man and Redman's 1999 single, "Blackout," Meth made a quick reference to WWF legend "Stone Cold" Steve Austin. Ten years after that, Wale name-dropped Bret Hart on his J. Cole-assisted cut "Beautiful Bliss." In 2017, Offset, 21 Savage and Metro Boomin released "Ric Flair Drip," a stylish anthem that paid homage to the great Ric Flair, who also stars in its accompanying video. Bronson himself has enough wrestling references to fill up albums worth of material. Infamously, Westside Gunn made an altered image of wrestling legend Chris Benoit on the cover of his 2018 album, Supreme Blientele, telling XXL it served as a metaphor for his album, which he claimed was "killing everything." Benoit killed his wife before taking his own life in 2007.
Hip-hop's affinity for wrestling is very real, and for many artists, it starts at an extremely early age. "I learned about wrestling and Santa Claus at the same time," explains Smoke DZA. Growing up the son of rabid wrestling fans in Harlem, he recalls watching Hulk Hogan and putting together wrestling matches with his friends on Manhattan Avenue by the age of 8. DZA acted out the thrilling action he absorbed from the matches he'd watch at home. "We was some creative lil niggas," he remembers with a laugh. Although Hulk Hogan was eventually caught on tape making racist remarks in 2015, and ultimately fired from WWE, DZA hasn't stopped being a fan. He met Hogan after the incident and even had him sign his belt. "It definitely rocked us," DZA says of Hogan's controversy. "You don't expect to hear one of your heroes speak like that. But at the same time, I'm also separating the character from the man. So, I'm not talking about Terry Bollea."
Indeed, Smoke DZA's relationship with wrestling is strong, and it's held steady in adulthood. He's since used his creativity to fuse wrestling with his releases, dropping eight installments of his Ringside EP series. Before that, he says, those melodramatic brawls helped expa nd his developing repertoire of language.
"Wrestling helped my vocabulary because it made me understand words and the pretense that they use during wrestling matches," he shares. "I charge a lot of my vocabulary to [wrestlers] Gorilla Monsoon and Bobby Heenan."
If wrestling didn't fortify an aspiring rapper's writing skills, it did offer a crash course in showmanship. Pairing flamboyant swagger with the rugged appeal of a take-no-prisoners badass, pro wrestling can feel a lot like rap's methodological cousin—a lineage extracted from machismo, irrepressible confidence and overwhelming physicality.
"I think the character work and using real-life things to make art is kind of a good parallel for rap and wrestling," says JPEGMafia, whose discography is littered with wrestler name-drops. Over the last two years, he's forged a friendship with AEW wrestler Darby Allin. Watching him in the ring, the Brooklyn rapper noticed unexpected similarities in their approach to performance.
"When [Darby Allin] wrestles, it's almost like he just likes to blur the line," says JPEG, who remembers being a fan of The Rock and The Undertaker as a child. "You don't really know if it's real or not. He just goes in there and has genuine fights. I like to approach my art like that. I like my art to start genuine conversation or evoke a reaction that make you feel some s**t in some way."
Since joining the WWE in 2019, Lagos, Nigeria native Omos has also noticed stylistic similarities between the way wrestlers approach their enemies with scripted barbs. Think battle raps. "John Cena goes into the ring and he's talking in the ring and he's speaking like, 'Hey, this guy, I'm better than you,'" Omos shares. "It's pretty much rap music. They see these guys who have larger-than-life personalities, these large egos and large bravado and they can identify with that. 'Cause they're trying to portray the same thing in their field. The confidence, charisma, the swag, the dress, how he speaks, how he walks, how he talks. Everything, it's all encompassing."
Hook echoes Omos' sentiments. "It's just an attitude," he says. "It's building a character. There's just a lot of crossover between the two markets. I feel like it's a natural connection. Each group can pull inspiration from each other."
Westside Gunn has no issues leaning into the dramatics as a self-proclaimed heel—a term the wrestling world uses to designate a villain. His raps are coated with dismissive s**t talk and ostentatious flexes. A lifelong student of wrestling, he too appreciates the theatricality of the live-action spectacles. He's applied some of the concepts to his own alter ego, FlyGod. "Growing up, all the gimmicks was extra cool," Gunn remembers. "Million Dollar Man with the belt. It was just a lot of cool characters, you know, Junk yard Dog, Jake 'The Snake' come with the snake in the bag. I think maybe that's what make me dope because it's like the FlyGod has his character."
As a boy, Gunn would travel to his aunt Jenny's house to watch Hulk Hogan and other childhood heroes compete on her thick, floor model TV. "Back in the day, the f**king back of the TV was 60 pounds," he recalls with a laugh. These days, he's traded in antique television sets for ring side seats at AEW and WWE events. Gunn soaks up all the ambience of an energetic audience. If fans happen to catch him at a wrestling showcase, they might also see his friend Smoke DZA , who's known to pull up with Gunn to matches. Let him tell it, Gunn "adds wrestling to everything I do."
As acts like Westside Gunn, Smoke DZA and others absorbed aspects of wrestling in the 1980s and 1990s, hip-hop's situational symbiosis with the culture also further developed, the result of rap becoming one of the most popular musical genres in the world. In the late 1990s, wrestling duo PG-13 would incorporate rap in their act as part of the Nation of Domination stable.
In 2000, the WWF—the company changed its name to WWE in 2002—teamed up with Priority Records to release WWF Aggression, a compilation of rerecorded rap songs dedicated to specific wrestlers in the league. Featuring appearances from Run-DMC, Snoop Dogg, Method Man and more, the project was eventually certified gold. In 2003, E A Sports released Def Jam Vendetta, a wrestling game that features rappers DMX, Ghostface Killah, Method Man, Ludacris and more.
Increasingly often, wrestlers began venturing into the world of hip-hop, too. In 2005, John Cena and Tha Trademarc released a rap album called You Can't See Me. Rappers have also continued finding ways to expand the bounds of their own fandom. During a 2017 episode of SmackDown Live, Wale hosted a rap battle between WWE wrestling stables The New Day and The Usos. He's a lso worked as an occasional commentator. According to seven-year WWE wrestler Apollo Crews, Wale's even been a talent scout—kind of. Working as a n independent wrestler in 2014, Crews remembers logging into Twitter and finding a direct message from Wale. "I opened a message and he says, 'Man, I just found out about your work. How can we get you in WWE?'" Crews remembers. "I was like, 'Man, your guess is as good as mine.'"
Crews isn't exactly sure of the precise details, but he says Wale reached out to the WWE's Mark Henry, and by the time Crews returned to the states a month later, he found an invitation to a WWE NXT trial. "The fact that [Wale] even cared to help me reach my dreams and my goals, I'm very thankful to him for that," Crews discloses.
Wale isn't the only rapper look ing to level up in the world of wrestling. Three years ago, Westside Gunn founded Fourth Rope, a brand that sells pro wrestling merch, and he's looking to take it to new levels. There have been rapper-wrestlers, wrestlers moonlighting as rappers and rap-wrestling soundtracks, but to date, no rapper-founded wrestling leagues. Gunn plans to make Fourth Rope the first. The project remains in its infancy, but he's searching for venues in Miami a nd other places that might be a fit for pro wrestling showcases.
"I just want to bring the raw wrestling, the people that, 'cause so many people used to watch wrest ling and don't anymore," Gunn says. "And then you have to ask yourself, why is that? And then once you realize why is that, then that's what you have to provide."
"I want to get people that feeling again, where it was real wrestling, real storytelling, real character with culture," he adds. "So, you might see f**king Wiz Khalifa in the front row one day and next time you see Shaq or f**king Mike Amiri. The next thing you know is them all over, all the things I do from fashion to art to music, people that's just supporting me and supporting my vision."
Westside Gunn's ambitions are as bold as any of his Technicolor flexes, but they're also plausible goals after decades of rap-wrestling cross-pollination. But even if they weren't, would it really matter? After all, it's rap and wrestling. Modesty has never been the point.
Read the full story on hip-hop's love for wrestling in the winter issue of XXL magazine, on newsstands now. Check out additional interviews in the magazine, including the cover story with Pusha T as well as conversations with Chance The Rapper, Ab-Soul, Freddie Gibbs, G Herbo, DaBaby, EST Gee, Murda Beatz, Morray, Ice Spice, Jeleel!, Armani White, Destroy Lonely, producer Dez Wright, singer Kiana Ledé, actor Shameik Moore, plus a look at how new artists get on in hip-hop these days, the ways in which women in rap succeeded in 2022, the rapper-run podcasts the game has grown to love and a tribute to rappers we lost in 2022.
See Photos of Pusha T's XXL Winter 2022 Issue Cover Story