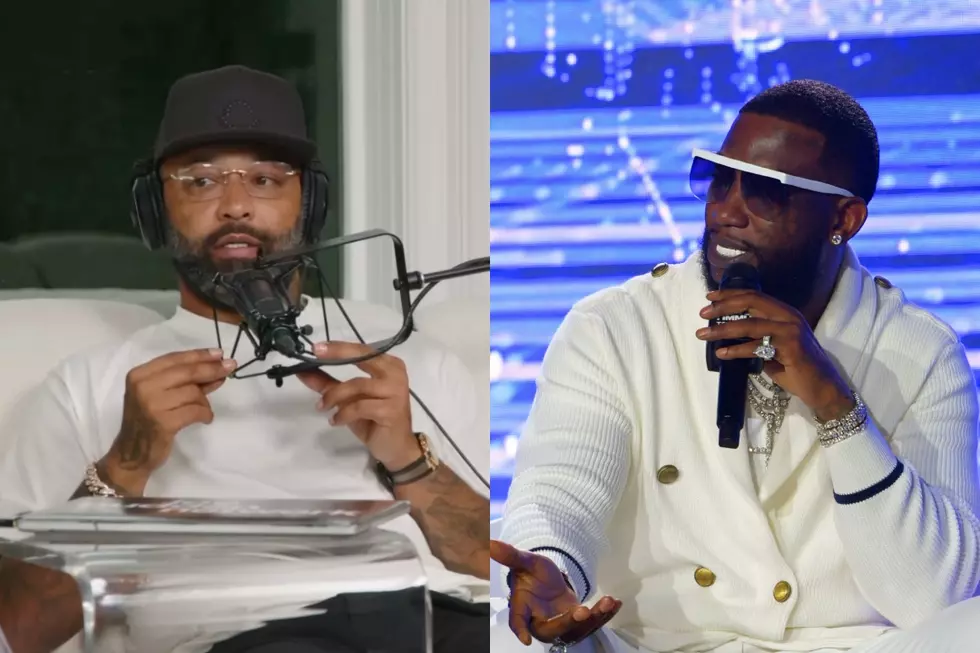 Joe Budden Doesn't Think It's a Coincidence That Gucci Mane's Artists Are Constantly Getting Into Trouble
Joe Budden TV/YouTube/Marcus Ingram/Getty Images
Joe Budden recently addressed the string of arrests and bad future that has befallen several of Gucci Mane's artists and concluded that it may not be a coincidence.
On Wednesday (Jan. 11), Joe aired the latest episode of The Joe Budden Podcast and made it a point to talk about the speculated Gucci Mane curse involving artists who signed to his label meeting a foul fate and questioned the Atlanta rapper-CEO's A&R skills.
"Who people are signing, how people are signing them and why people are signing them needs to be under thorough examination from all parties involved in the music business," Joe Budden opined at the 1:58-mark of the pod clip below. "The same way that in sports...Last decade, when injuries started happening at a rate that they had never seen before. And studies and new science showed the game was affecting players' bodies differently. So they started coming up with these new theories like shortening the season or making the playoffs shorter or whatever they was doing. The same thing has happened in rap in the last decade where we have never seen this many people die. We've never seen this many shootings, stabbings, clique beef, arrests, RICOs. I have never seen it in hip-hop."
He continued: That conversation runs concurrent...with the death of the A&R. The death of musicianship. Those are together for me. So, when I say Gucci Mane's scouting needs to be under examination, it's because this is now what eight, nine, 10? I don't know. A whole roster that is suffering from the Diff'rent Strokes curse. And I don't think it's coincidence anymore," he added, referring to the early 1980s TV show that is believed to be cursed by some fans.
"It don't matter that one of them made a good song," he added. "And now it done sold however many million or made however many millions. If niggas don't have the information. If niggas don't really know how to move in this space. Life expectancy for rappers is short already. For me, as a rapper, it's scary as shit out there right now."
He concluded, "These niggas sign niggas. They get they money. They take they money. They do something else with it. Now we went and bought a bunch of guns. We went and bought tanks. Now, we have reasons to be in every city around the globe. We got reasons to move around with 80 or 90 people. SWAT protection. There's a reason this shit is going on and it ain't music based and only in the music business and only here."
Gucci Mane's 1017 Global Music label has taken a number of hits over the last year. Last April, Pooh Shiesty was sentenced to over five years in prison after pleading guilty to a firearm conspiracy charge. Last May, Foogiano was sentenced to five years in prison after melting off his ankle monitor and going on the run. At the time, he was on bond for a firearm possession charge. Last January, Hotboy Wes was arrested on a robbery charge in Texas. Most recently, Memphis artist Mac Critter was arrested on first-degree murder charges, earlier this month. That news came a couple weeks after 1017 artist Big Scarr tragically passed away at the age of 22.
See Joe Budden Questioning Gucci Mane's Judgement on the Latest Episode of The Joe Budden Podcast Below
See Hip-Hop Artists We Lost in 2022
Rest in power to these beloved artists.
More From 105.1 The Block