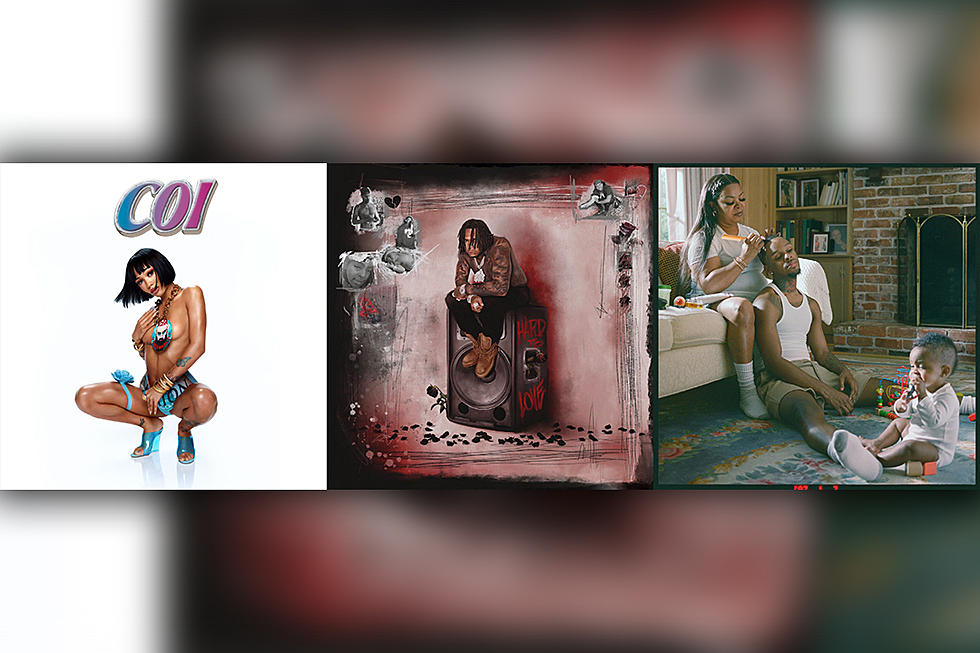 June 2023 New Music Releases
Uptown Records/Republic Records/UMG Recordings/CMG/N-Less/Interscope Records/South Coast Music Group/Capitol Records
As May saw notable drops from the likes of Lil Durk, Kodak Black and YoungBoy Never Broke Again, hip-hop looks to close out the first half of 2023 on a high note with plenty of new projects coming through in June.
After pushing the release date back a week to make room for Taylor Swift, Moneybagg Yo is set to put out his new mixtape, Hard to Love: Heartless Edition on June 2. Just hours before the tape was to be released, the Memphis rapper hit up Instagram on Thursday (May 25) to let his loyal following know that since he's such a huge fan of Tay Tay, Moneybagg Yo enthusiasts will need to wait it out for a "few days."
"I just got the news my little baby, Taylor, dropping tonight," Bagg said from inside of a Ferrari as he sparked one up while singing along to Taylor Swift's "Lover.""I ain't gon' lie, y'all know how I feel about Taylor, man. So I think I'ma push Hard to Love back just a few days. Y'all be patient with me. Let Taylor have this s**t."
With the new date set, Moneybagg Yo's next project, which is led by his most recent single, "Ocean Spray," the release of Hard to Love: Heartless Edition will be met with an interesting incentive. Moneybagg Yo's girlfriend, social media influencer Ari Fletcher, says that she will start an OnlyFans account if the mixtape reaches a chart position of No. 1.
Hard to Love: Heartless Edition will serve as Moneybagg Yo's first project release since 2021's A Gangsta's Pain, which debuted at No. 1 on the Billboard 200 albums chart. In announcing his forthcoming tape, the Bread Gang boss hit up social media with an explanation as to why it's been two years since his last drop.
"Yo, I know it's been a minute," Moneybagg Yo's letter to his fans reads. "I miss y'all as much as y'all miss me. A lot has happened in 2 years. I gained and lost more than I ever thought I would and had no other safe outlet for all the emotions and dark thoughts that came wit that other than making music."
He continues: "I'm blessed to have an art form to express myself inside and out with you all. Demario is the one that all the shit happened to but nobody understood that I gotta wake up and be Bagg every day to provide for my family and continue to carve my legacy but it's not easy balancing the two."
"Not to mention while I was wrapping up the album I was hit with a tragedy that would affect my kids and me forever," Moneybagg Yo writes. "Stack that on top of losing Nuski, my right-hand man to the streets, and then my left-hand man, A, to the Feds. It was loss after loss in my eyes while the rest of the world was still moving on."
Coming off the heels of a wildly successful year so far on the strength of her single, "Players," Coi Leray is set to release her sophomore LP, Coi, on June 23. Along with the original version of "Players," which contains a prominent sample of Grandmaster Flash & The Furious Five's iconic song, "The Message," and landed Coi Leray her highest chart position to date, the upcoming album is previewed by two recent singles, "Bops" and "My Body."
Guest appearances on Coi will include features from Lola Brooke, Saucy Santana and David Guetta, among others.
On June 2, Toosii will be looking to capitalize on the critical and commercial success of his hit single, "Favorite Song," by coming through with his second studio album, Naujour. The 19-track LP is previewed by two new iterations of Toosii's platinum-certified track, "Favorite Song (Remix)" featuring Khalid and "Favorite Song (Toxic Version)," which features a verse from hip-hop's Toxic King, Future. Other guest features on Naujour will find Toosii working with 21 Savage and Wallo267.
Check out all the June 2023 new hip-hop project releases including drops from Chief Keef, Metro Boomin, Killer Mike and more below.
See June 2023 New Music Releases
See 20 of the Best-Selling Hip-Hop Albums of All Time
More From 105.1 The Block