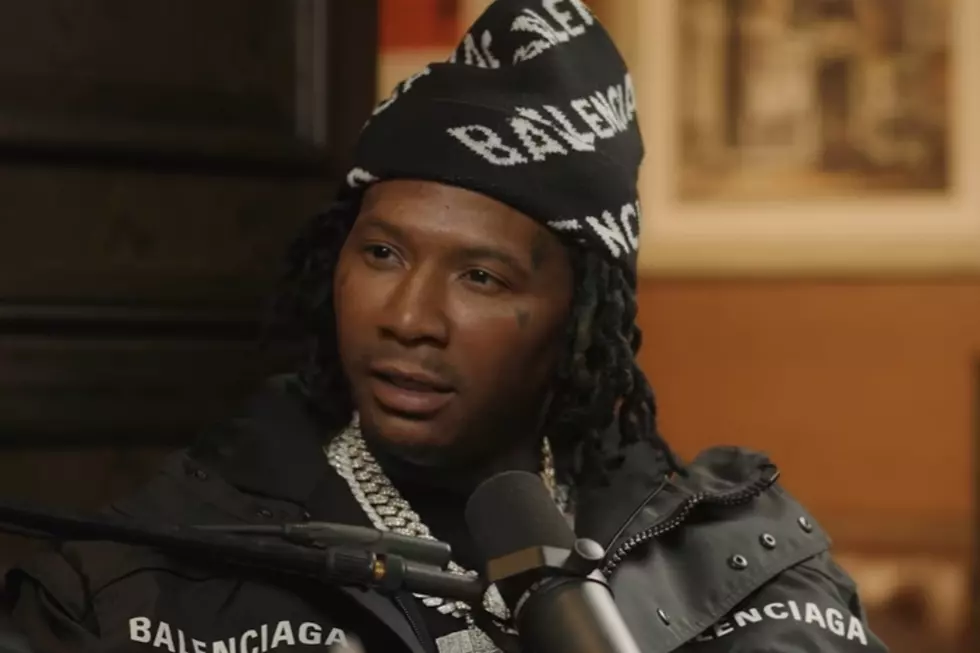 Moneybagg Yo Talks About Dealing With the Murder of the Mother of Three of His Kids
Angie Martinez/YouTube
Moneybagg Yo recently did a tell-all interview with Angie Martinez where he opened up about the recent murder of the mother of three of his eight children.
The Memphis rapper, who is promoting his upcoming mixtape Hard to Love: Heartless Edition, was recently interviewed on Angie Martinez's IRL podcast in an sit-down that aired on Wednesday (May 31). Toward the beginning of the in-depth talk, the "Wockesha" rapper opened up about losing the mother of three of his children to a senseless killing last April.
Moneybagg Yo Opens Up About the Murder of His Children's Mother
"It's a tough situation," Moneybagg Yo explained at the 8:22-mark of the video below. "I had three kids by her. I got full custody of my kids. They stay in the house with me. I'm getting them adjusted to this lifestyle, this different life. It's hard. I really see what sacrifices you gotta make."
"She was in the streets," the "On Wat U On" rapper continued. "She was murdered by somebody she was with. It was shocking. I was in Atlanta. I was recording, working on the tape. And they just called me, 'They saying Shanina at a room, she dead.'...I instantly broke down. I couldn't believe it."
Moneybagg Yo went on to say he called his then 13-year-old daughter to tell her the news but she already had an inclination that something was seriously wrong. The rapper said that same daughter has since asked him about seeking therapy to deal with the trauma.
"It's hard to talk about right now. But I'm a stronger man and I'm getting through it," Moneybagg Yo added.
 Moneybagg Yo Prepares New Album Following Hiatus
Moneybagg Yo's new mixtape is scheduled to drop on June 2 after being pushed back from it's initial release date of May 26. It will be his first release in two years. He recently touched on his trying times in a post about the project.
"Yooo, I know it's been a minute. I miss y'all just as much as y'all [missed] me," his letter began in part. "A lot has happened in 2 years. I gained and lost more than I ever thought I would and had no other safe outlet for all the emotions and dark thoughts that came with that other than music."
"Through it all my biggest source of strength is my fans [and] I appreciate all of y'all equally," he added. "With all that being said, I got a story to tell, not looking for sympathy I just want to be understood."
If the project goes No. 1, Moneybagg Yo's girlfriend Ari Fletcher has teased starting an OnlyFans account.
Watch the Full Episode of Moneybagg Yo on Angie Martinez's IRL Podcast Below
See Hip-Hop Artists We Lost in 2022
Rest in power to these beloved artists.
More From 105.1 The Block