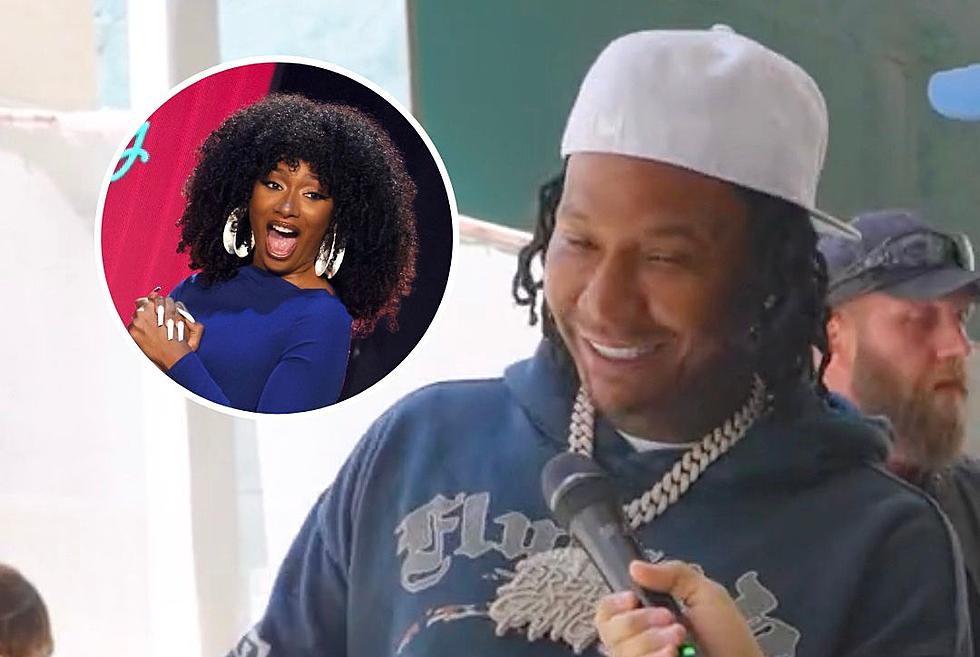 Moneybagg Yo Gets Asked What Song Reminds Him of His Ex, Starts Rapping 'All Dat' With Megan Thee Stallion
nicolasnuvan/tiktok/Rick Kern/Getty Images
During an interview, Moneybagg Yo was asked an unusual question and gave a surprising answer.
On Friday (May 26), TikTok personality Nicolas Nuvan shared a video of himself running into Moneybagg Yo somewhere on the streets of New York. In the clip, Nicolas asked him what song reminded him of his ex. His response appears to be tongue-in-cheek.
In answering the question, Moneybagg recited a verse from his 2019 banger "All Dat," featuring, ironically, his ex-girlfriend Megan Thee Stallion.
"What you doin' with all that ass? Let me touch it (Let me feel)/She say it's mine, so I smack it when I f**k it (Ugh, ugh)," he rapped.
It appeared that Nicolas didn't have a clue that he was chatting with the biggest rap star out of Memphis. He asked the CMG artist what his accent was, to which he responded, "Memphis, fo sho."
"So you make murr-sic," Nicolas shot back, making Moneybagg laugh.
Nicolas then thanked Moneybagg for his time to which the "Wockesha" rapper responded, "The largest, the largest."
So far, Nicolas' TikTok video has generated over four million views on the platform.
Moneybagg Yo and Megan dated briefly back in 2019. Out of their partnership, they released their collaborative track "All Dat." You can watch their music video below.
In a 2020 interview with XXL, the 31-year-old rapper said the Denaro Love-produced song was created off of a vibe.
"It's just that vibe. It got to be energetic," he said. "It got to be turned up. It got to be ready for the world. It got to stand up on its own."
It looks like Moneybagg Yo was being cheeky with his answer.
Watch Moneybagg Yo's Funny on the Street Interview Below
Watch Moneybagg Yo and Megan Thee Stallion's "All Dat" Music Vide Below
See Questionable Lyrics That Got Rappers in Trouble
More From 105.1 The Block