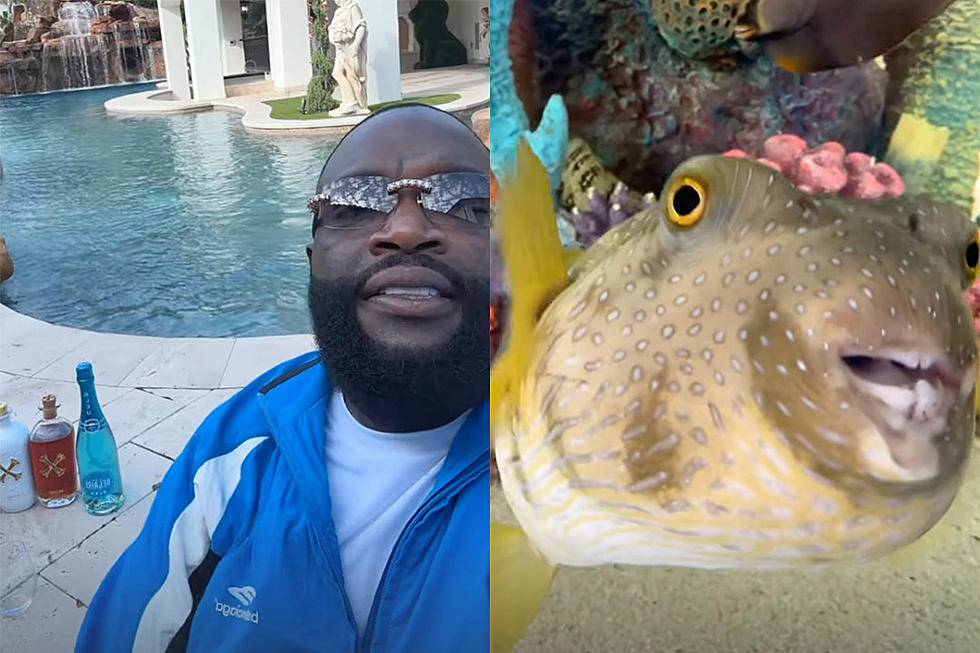 Rick Ross Gives a Tour of His Houston Mansion With Gigantic Fish Tank and Luxurious Pool
richforever/Instagram
Rick Ross recently gave his Instagram followers a tour of his Houston mansion, which includes a gigantic fish tank and luxurious pool.
Rick Ross Gives a Tour of His Houston Mansion
On Wednesday (Aug. 30), Rick Ross posted several videos on his Instagram Story of his Texas digs, which can be seen below. In one of the clips, Rozay shows Instagram users his luxurious pool, which he bought amid the Dodgecoin frenzy in 2021. The pool also has a jacuzzi, a marbled deck and a rock waterfall, to name a few.
"While they were buying Dodgecoin, I was buying real estate," Rick Ross says in the clip on his Instagram story while giving Instagrammers a full view of his pool.
In the follow-up videos, Ross gives people a glimpse of his gigantic fish tank, celebrity designer Kapesh Designs built. The extensive fish tank, which can be seen below, contains a vast coral reef and different types of fish. While giving people on Instagram a closer look at his tank, the rapper stated that his fish serve as a security system against intruders.
"If you break in, the alarm going off," Rick Ross said in the clip below. "Motion sensor alert."
Rick Ross Reportedly Buys $35 Million Miami Mansion
On Aug. 14, The South Florida Business Journal revealed that Rick Ross reportedly purchased a $35 million mansion in Miami's elite Star Island neighborhood. The house, which is approximately 9,700 square feet, features a chef's kitchen, a separate breakfast room, a heated pool, a 40-foot boat dock with direct access to the ocean, a custom staircase and a "living room that is larger than most apartments." The house hosts six bedrooms and eight bathrooms. Rozay still owns his The Promise Land estate, which is located in Fayette County, Ga.
Take a look at some areas in Rick Ross' Houston mansion below.
See Rick Ross Give a Tour of His Houston Mansion With a Gigantic Fish Tank and Luxurious Pool
Wildly Expensive Hip-Hop Songs Based on Prices of Luxury Items Mentioned
XXL takes a look at the estimated price tags of the luxury items rappers like Lil Uzi Vert, Travis Scott, Nicki Minaj and more mention on their songs.