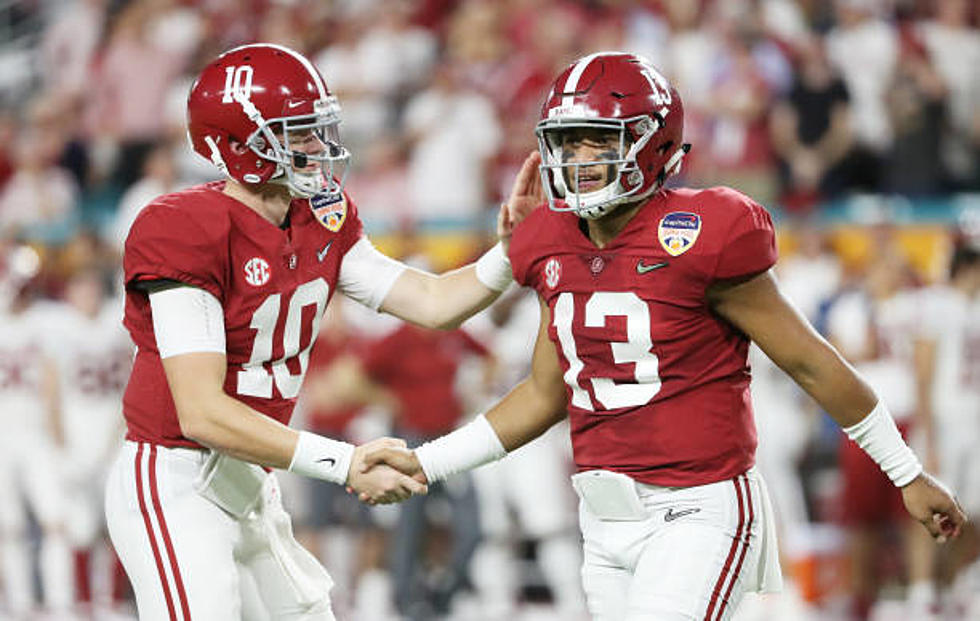 Mac Jones vs. Tua Tagovailoa Take the Stage in NFL's Week One
Getty Images
Mac Jones earned the Patriots starting quarterback position and is set to make his debut against his former teammate Tua Tagovailoa at 3:45 p.m. CT on Sept. 12. Jones will be the first rookie quarterback to start in week one for the Patriots since Drew Bledsoe back in 1993. Not only were Jones and Tagovailoa both shaped under the dynasty of Nick Saban, but they both led the Crimson Tide to national championships. This matchup is going to be one to watch.
"I think it's going to be competitive, just knowing Mac Jones since I've got there," said Tagovailoa. "He's a very competitive guy, very smart, athletic, he's instinctive and I know he's going to do all he can to get his guys ready offensively. That's what I'm trying to do for our guys, getting ready for the Patriots next week."
After Tagovailoa underwent a severe hip injury in the 2019 Mississippi State game, Jones took over as The Crimson Tide's starting quarterback. These two players have grown intensely since that game to become the starting professional quarterbacks they are today and will now have the chance to prove their capabilities together, this week. 
Both quarterbacks have something to prove in this upcoming game. Jones will have to demonstrate his abilities and prove that he deserved to win the starting QB spot over Cam Newton. Tagovailoa will look to prove that he can elevate his game this season.
When Jones and Tagovailoa face off as starting quarterbacks this weekend, it will become the first NFL game with two Alabama QBs serving as the opposing starters since 1983.
Richard Todd led the New York Jets to a 31-28 win over the Kenny Stabler led New Orleans Saints on Monday Night Football in 1983. Stabler was 12-of-19 passing for 190 yards with one touchdown and one interceptions. Todd was 20-of-30 passes for 230 yards and one touchdown.
Alabama Football's Record Against the SEC & Other Major Opponents
The Alabama Crimson Tide is 929-331-43 all-time in college football. See how the records fall against the Tide's SEC rivals and other top programs in the nation.
Here's Why Every SEC Team is Inferior to Alabama
The Alabama Crimson Tide 2021 Defense
The Alabama Crimson Tide led the SEC in scoring defense in 2020 holding opponents to 19.4 points per game. The Tide is expected to be even stronger on defense this fall, returning several starters from last year and an impactful transfer.
Lies Auburn Fans Tell Themselves About Bama Football
More From 105.1 The Block