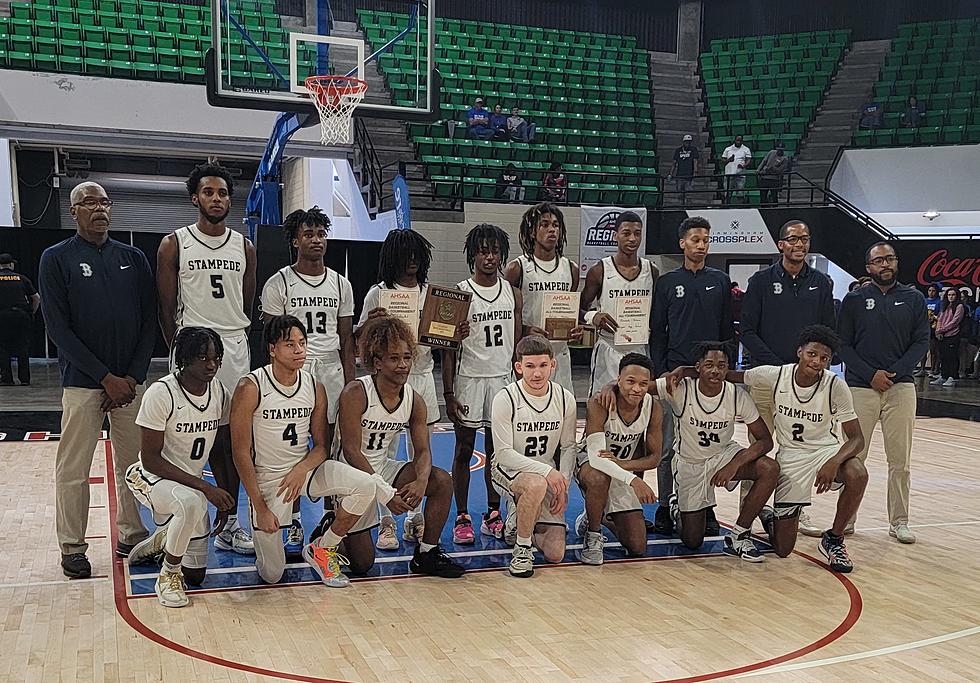 "People Doubted Us" Bryant High Boys Ahead of Final Four Matchup
Twitter, theprinceboi52
The Paul W. Bryant High School Boys' basketball team has been having an amazing season so far.
The team's most recent win came against in-city rival Hillcrest High in an elite eight matchup on February 22nd.
On March 1 at 1:30 pm at the BJCC Convention Center, Paul Bryant will play Mountain Brook in the state semifinals. A game that the Stampede isn't taking lightly.
Paul Bryant's head coach Shon Peck-Love described the emotions he's feeling making it this far into the tournament.
"Feels great.Great times for our school & our program. I hope these guys are just enjoying the moment."
During an interview with 105.1 The Block's DreDay, coach Peck-Love was asked if this was the greatest season he's had so far in his twelve years with Bryant.
It's there with the top of them, being that we won it back in 2017," said Peck-Love.
"That was a great year for us, but with this group here, its a great feeling because no one really thought we'd make it here."
Small Foward Eric Grant echoed his coach's thoughts when asked about his feelings heading into the Final Four game in his Junior year.
" It feels good. Like coach said, People doubted us in the beginning of the season but I felt we would go far."
Adrian Wooley spoke on his thoughts making it to the Final Four.
"I wanted to be here for a minute, my first two years three years we didn't make it, we got out the first round against Hueytown but now we bounced back and now we in it."
You can hear the full interview with the Bryant High boys basketball team below.
Hillcrest vs Bryant: Elite Eight
Hillcrest Lady Patriots vs Pelham: Elite 8
Paul Bryant vs McAdory: AHSAA Subregionals
More From 105.1 The Block