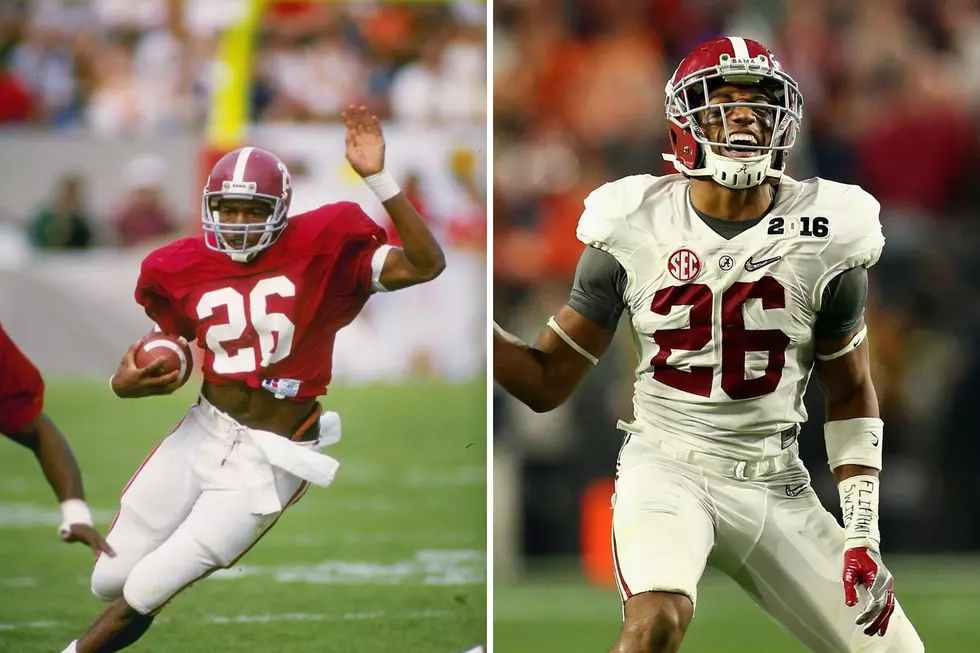 26 Days Away from Bama Kickoff: Bobby and Marlon Humphrey
Getty images, Canva
Each day counting down to Alabama's Week 1 matchup with Utah State, I will highlight a former player whose jersey number coincides with the amount of days until the game. The Tide takes kicks off in just 26 days, so let's take a look at a legendary father/son duo that both suited up for the Crimson Tide, Bobby and Marlon Humphrey. 
Bobby Humphrey was a dominant running back for the Crimson Tide from 1985-88, and his son, Marlon, was an extremely skilled corner that played from 2014-16. Though the two players suited up in totally different eras, both were equally as dominant in their time with Alabama.
Bobby was born in Birmingham, AL in 1966 and played football from an early age. He spent many Saturdays working the concession stands at Legion Field when the Tide would come to town, and dreamed of one day suiting up for his favorite team.
His dreams were realized after putting together an incredible four years at Glenn High School. The 6-foot, 190 lb. running back compiled a whopping 7,000 yards in his time as a member of the Hawks, and earned a scholarship to play for the Bear Bryant led Crimson Tide.
After splitting time in his freshman season, Humphrey broke out as a sophomore, leading the team in rushing with over 1,400 yards. He took over as the full-time starter in his junior year, 1987, and cemented his place above Johnny Musso as the then-all-time leader in rushing yards. While he returned for a senior season, the Birmingham native suffered a broken left foot that ended the year just three games in.
He was drafted in the 1989 Supplemental Draft and spent time with Broncos, Dolphins and Bills, compiling 2,857 yards, 15 touchdowns and a Pro Bowl nod across his four-year career.
Humphrey's son, Marlon, born in 1996, took a very similar path to that of his father, albeit with some key differences along the way.
Rated as the No. 1 player in the state of Alabama his senior year at Hoover High School, Marlon was a dynamic cornerback that also excelled on the track. He was a three-time All-American on the gridiron and won a silver medal for 110m hurdles in 2013, falling just shy of the youth world record, which was set by the gold medal winner.
After redshirting in his freshman season, Humphrey took over as a starter in 2015 and put together an incredible year. He started all 15 games and finished with 45 tackles, three interceptions and eight pass deflections, earning Freshman All-SEC honors for his play. The Tide went 14-1, dropping a regular season matchup to Ole Miss, but winning the national title over Clemson.
As a sophomore, Marlon continued to dominate opposing wideouts and clog throwing lanes, finishing the year as a First Team All-American. He entered the 2017 NFL Draft, and despite just two seasons as a starter at Alabama, was selected 16th overall to the Baltimore Ravens.
Humphrey has spent five seasons in Baltimore and is currently one of the NFL's top cornerbacks. He earned his first Pro Bowl nod in 2019 and followed it up in 2020 with another. While still early in his career, Humphrey is already looking to be one of the top players at his position in the young franchise's history.
Stay locked in to Tide1009.com for the countdown to Alabama football. Check out the rest of the list here.
Iconic Photos From Alabama's 18 National Championships
Claimed or recognized, no FBS football program has more national championships than the Tide. Look back on all 18 titles in Alabama history with these photos.
Highest Rated Recruits of the Saban Era By Year
Check out Alabama's highest-rated recruit from each Crimson Tide recruiting class during the Nick Saban era.
More From 105.1 The Block