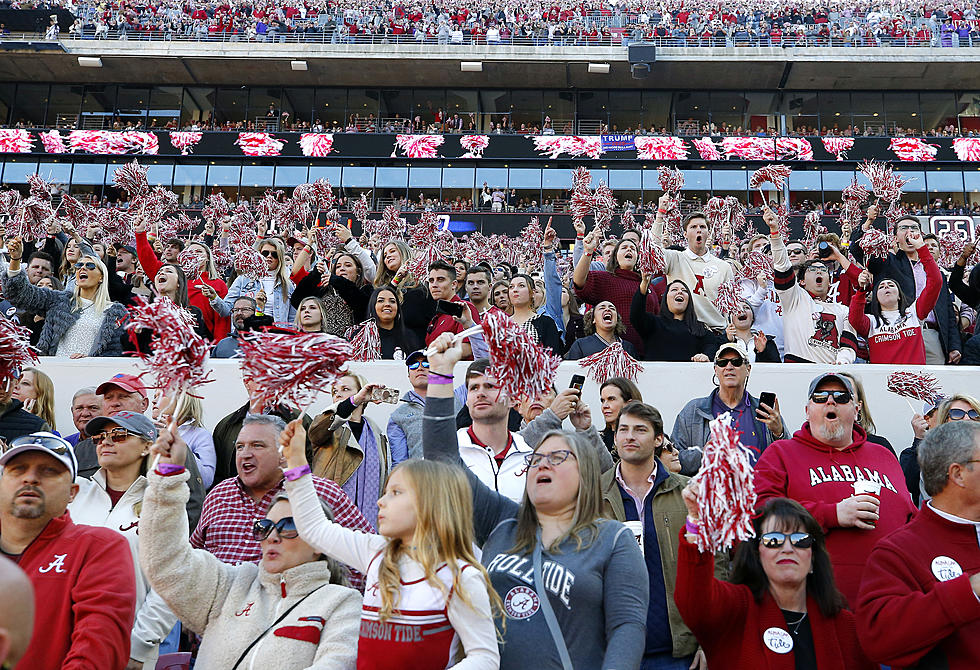 ADPH, Alabama Football Programs Launch COVID-19 Vaccination Initiative
Getty Images
The Alabama Department of Public Health held a conference Thursday to announce its newest initiative to get people vaccinated against COVID-19.
Alabama State Health Officer Dr. Scott Harris joined Bruno Event Team CEO Gene Hallman to outline Kick COVID-19, which aims to highlight all 13 Alabama FBS and FCS member schools. Each school will have one home game that will also serve as a vaccine clinic for anyone who has yet to get the shot.
"With the highly contagious Delta COVID-19 variant circulating, and cases, hospitalizations and deaths increasing, we continue urging all eligible people to be vaccinated as quickly as possible," Harris said in a news release from the ADPH. "These new and popular venues will provide additional opportunities for people to learn more about the virus, the vaccine, and receive testing and vaccine on-site."
The initiative does not come without incentives: those who receive the vaccine at one of these clinics will receive a $75 gift card to the home team's school bookstore.
"This is the best college football in the country right here in Alabama, so why not use this platform to convince people that they need to take that first dose?" Hallman said in the conference, which was held on Zoom at 11 a.m. Thursday. "...You can go buy some fan apparel, hat, t-shirt golf shirt, whatever it may be, as a way to say thank you for helping us make our communities safer."
The clinic schedule is as follows:
SEPTEMBER 16
North American University @ The University of West Alabama
SEPTEMBER 18
The University of North Alabama @ Jacksonville State University
Alcorn State @ The University of South Alabama
SEPTEMBER 25
Southern Miss @ The University of Alabama
Georgia State University @ Auburn University
Bethune-Cookman University @ Alabama State University
East Tennessee State University @ Samford University
Central State University @ Miles College
OCTOBER 2
Clark Atlanta University @ Tuskegee University
Campbell University @ The University of North Alabama
Liberty University @ UAB
OCTOBER 9
Jackson State University @ Alabama A&M University
Georgia Southern University @ Troy University
Each university will feature some of its star athletes in the campaign. Harris indicated that funding is coming from various avenues, including federal grants.
"We view the central aspect of this program as being one using college football and the players themselves, speaking in their own authentic, sincere voices, asking their fans and fellow students to please go and get that vaccine," Hallman said in the conference.
To find out more about the initiative, visit kickcovid19.com.
How Do Fans Sing 'Dixieland Delight' in Tuscaloosa, Alabama?
Alabama football fans add
a few extra lyrics
to 'Dixieland Delight' when it's played on the speakers in Bryant-Denny in Tuscaloosa, Alabama. What are they singing? And Why?
Here's Why Every SEC Team is Inferior to Alabama
Meet The 2021 Alabama Offense
The 2021 Alabama offense only brings back three returning starters from the 2020 squad. Get ready for the new season by getting familiar with this year's Crimson Tide offense.
The Alabama Crimson Tide 2021 Defense
The Alabama Crimson Tide led the SEC in scoring defense in 2020 holding opponents to 19.4 points per game. The Tide is expected to be even stronger on defense this fall, returning several starters from last year and an impactful transfer.
Lies Auburn Fans Tell Themselves About Bama Football
All of the SEC Marching Bands From Alabama to Vanderbilt
Scrolling and Rolling: SEC Coaches as Pop Songs
What if each SEC coach were a pop song? We're prepping for kickoff in the Druid City and across the Southeastern Conference by taking a look.
The 10 Greatest Athletes from Alabama
More From 105.1 The Block