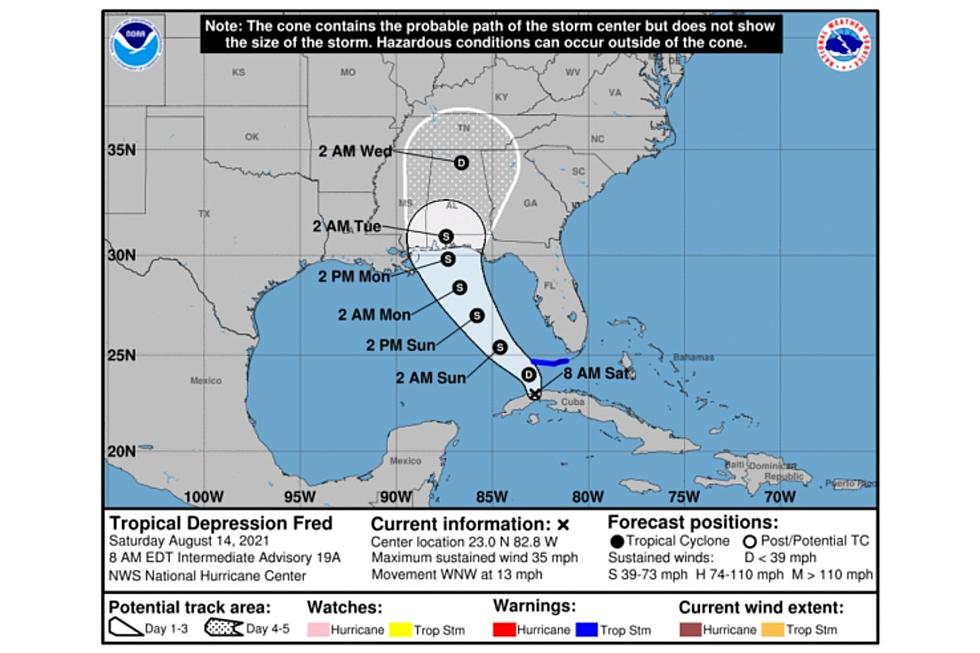 Poorly Organized Fred Could Bring Wet, Breezy Conditions to Central Alabama
National Weather Service
Upper-level winds and land interaction leaves Fred disorganized at the moment. Currently, Fred is moving in a west-northwestward direction at 10 to 15 miles per hour. According to the National Weather Service in Birmingham, Fred's "track forecast continues to trend farther to the west, with a turn to the north expected over the next couple of days."
8:00 AM EDT Sat Aug 14 Fred Inforation
Location: 23.0°N 82.8°W
Moving: WNW at 13 mph
Min pressure: 1013 mb
Max sustained: 35 mph
How organized will Fred become? That big question could be answered over the next 24 hours. The outcome of the system is due to the "continued influence from nearby weather features." Some models are even indicating that Fred could become an open wave. If strengthening occurs, Fred's center could be near Pensacola, Florida, by Monday evening.
This means that the current track and impacts could change depending on the outcome of how Fred maneuvers over the next 24 hours. Please stay informed.
Wind:
What:  Breezy winds with gusts up to 30-35 mph
Where:  Mainly near / east of Interstate 65 and south of Interstate 20
When: Tuesday
Flooding:
What:  Increased rain activity but widespread flooding is not anticipated at this time
Where:  Much of Central Alabama
When: Tuesday
James Spann, ABC 33/40, and Townsquare Media Tuscaloosa Chief Meteorologist notes that for "inland Alabama, rain will increase late Monday night and Tuesday; heaviest rain will be over the eastern half of the state where 1-2 inches are likely. For now major flooding issues are not expected, and a tornado threat looks unlikely for now."
Then there was Grace
Hurricane season is in its peak months for activity. Right now, Grace is moving quickly westward toward the Leeward Islands. We will continue to monitor this system as well.
Spann says that "Tropical Storm Grace is forecast to remain below hurricane strength over the next five days; the latest NHC forecast track has it near the southern tip of Florida Wednesday night. It is too early to know what, if any, impact this will have on Florida or the rest of the Southeast U.S."
(Source) Click here to follow the Facebook Page for James Spann. For more from the National Weather Service Birmingham, click here.
LOOK: Here is the richest town in each state
Just saying the names of these towns immediately conjures up images of grand mansions, luxury cars, and ritzy restaurants. Read on to see which town in your home state took the title of the richest location and which place had the highest median income in the country. Who knows—your hometown might even be on this list.
KEEP READING: See the richest person in every state
See the Must-Drive Roads in Every State
KEEP READING: Here are the best places to retire in America
LOOK: Here are the best small towns to live in across America
LOOK: Famous Historic Homes in Every State
READ ON: See the States Where People Live the Longest
Read on to learn the average life expectancy in each state.
More From 105.1 The Block