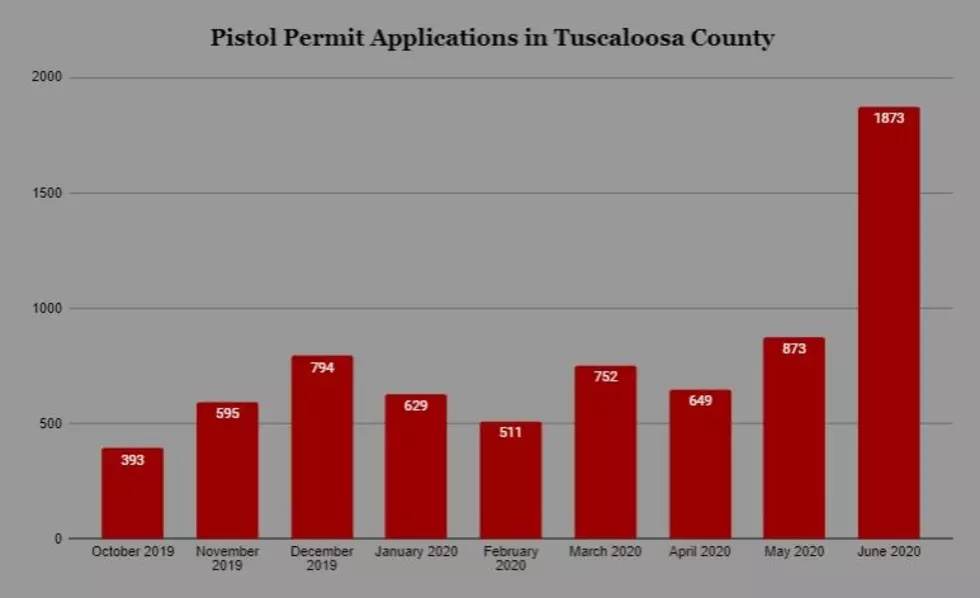 Tuscaloosa County Sees Pistol Permit Applications Spike in June
(Data Provided by the Tuscaloosa County Sheriff's Office)
Amid widespread national unrest and a spike in violent crime locally, applications for concealed carry pistol permits skyrocketed in Tuscaloosa County in June.
According to figures provided by a Tuscaloosa County Sheriff's Office spokesperson, 1,873 people applied for pistol permits in the month of June -- more than two times as many as any other month in Fiscal Year 2020.
In Alabama, permits allow their bearers to conceal a handgun on their person and to carry a loaded handgun in a vehicle. An overhaul of the state's gun laws in 2013 changed Alabama from a "may-issue" state to a "shall-issue" state, which means that when a person applies for a pistol permit, county sheriffs must grant them one unless the applicant is a felon or other person legally forbidden from owning one.
During the nine-month period for which data was provided, 7,069 people applied for permits in Tuscaloosa County. The month of May saw an uptick in applications from average, but things exploded last month when nearly 1,900 county residents sought permits.
Tuscaloosa Sheriff Ron Abernathy said any number of factors could have led to the significant increase in applications last month, including trends in national politics, the recent rise of crime locally and more.
Abernathy said he fully supports people getting pistol permits and exercising their Second Amendment rights to bear arms, but encouraged any first-time applicants who are considering carrying a handgun to do so safely.
"The number one thing is to make sure you know how to operate that weapon and make sure you have the capability to store it safely," Sheriff Abernathy said.
He urged gun owners to keep firearms in a safe in their homes each night instead of in a vehicle, where they can be more easily stolen and sold or used in violent crime.
He also said the Sheriff's Office regularly hosts a Citizen Firearms Safety Class, although those are currently on hiatus because of the COVID-19 coronavirus pandemic. He said he expects them to begin soon, and anyone interested in learning how to safely use and secure their handgun can check in with the TCSO Training Division and sign up for the next available course.
Enter your number to get our free mobile app
6 Things You Need to Know About Tuscaloosa's Mask Mandate
More From 105.1 The Block