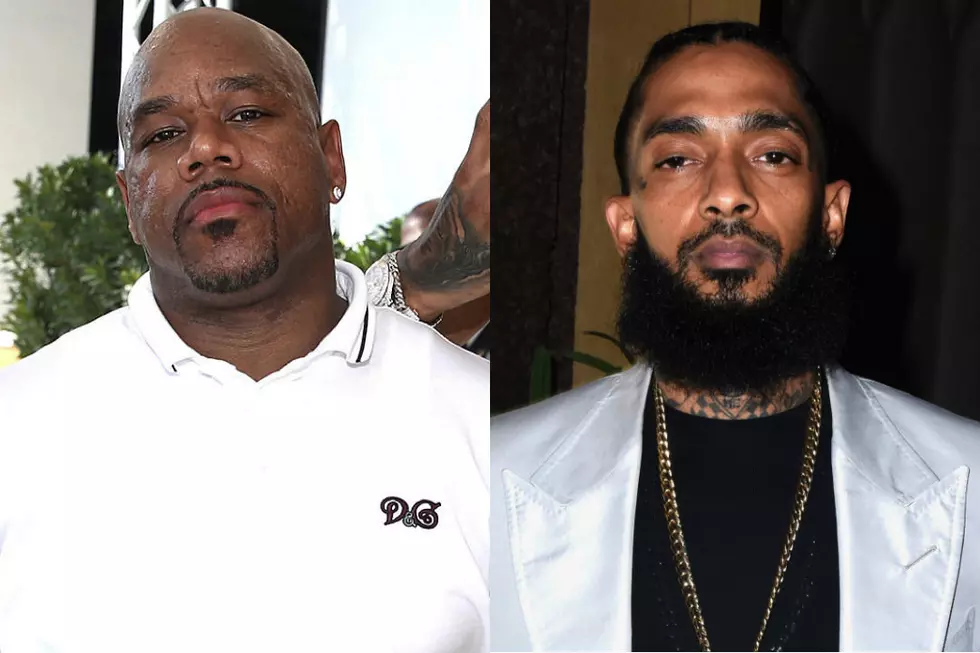 Wack 100 Thinks Nipsey Hussle Might Have Become a Legend If He Lived Longer
Randy Shropshire / Vivien Killilea, Getty Images (2)
On Thursday (Dec. 5), Blueface and The Game's manager stopped by Los Angeles radio station Power 106 to chop it up with Nick Cannon on his new morning show. Nick was sure to ask about Wack's recent claim that Nipsey was not a legend, which Wack explained was an assertion based only on music-related statistics.
"Every fact that I've laid has been about music!" Wack begins. Nick quickly interjects, noting that Wack "knows what Nip means to the community now." Wack then reiterates his point about it being solely based on the music and added that his thoughts may be different if Nipsey had lived longer.
"You're missing the point. I'm not involving myself with who he was as a father or what he was to his community because I don't know what his portfolio was," Wack explains. "I don't know! But what I do know, and if I don't know it I can go check, is the stats of music. I said he had a few joints that I personally felt should have went. I named the joints! I think if he would have been around long enough—a little longer—maybe he could have got to that status. But for me, to give him that 'legend' word means we have to go back and we have to give LL, Dr. Dre, Cube and all these other people a different moniker."
This entire discussion stems from a November interview on Adam22's No Jumper podcast. In it, Wack said that Nipsey didn't die as an A-List artist and that fans were showing "fake love" simply because he'd passed away. Outside of The Game's 40th birthday party on Friday (Nov. 29), he told TMZ why he didn't think Nipsey was a legend.
"He wasn't. What's a legend? Define a legend," Wack explained at the time. "If Dr. Dre, right now, died, we would say we lost a legend, right? Based on what? Numbers, right? Body of work, right? How many albums did Nipsey drop? One album, right? This not no personal shit I'm talking, right? This just real shit. The man died with a million followers, no radio hits, no platinum hits, right? No world tours, right? After he died, he went platinum, sold a bunch of records, his followers went up nine, 10 million, right? First of all, we got to define what the fuck a legend is, what the fuck a legend ain't."
You can watch Wack 100's full interview with Nick Cannon for yourself below.
See 12 Classic Hip-Hop Albums That Were Nearly Named Differently
More From 105.1 The Block