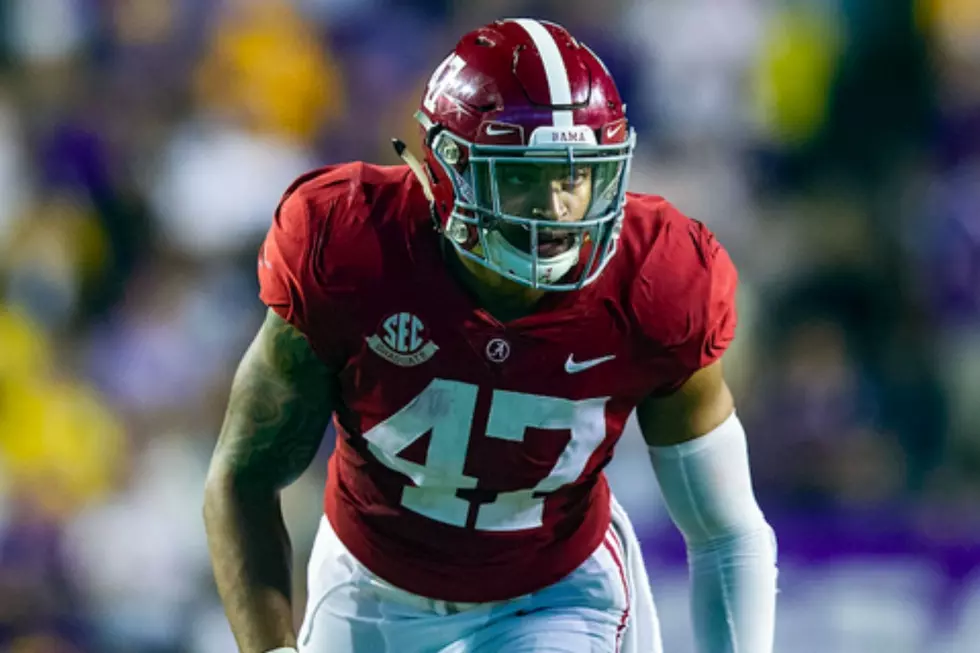 47 Days away from Bama Kickoff: Christian Miller
Photo courtesy of @Charlie_Potter on Twitter
Each day counting down to Alabama's Week 1 matchup with Utah State, I will highlight one former player whose jersey number coincides with the amount of days until the game. Kickoff is just 47 days away, so let's look at the Crimson Tide career of former Bama linebacker Christian Miller. 
Christian Miller suited up for the Crimson Tide as an outside linebacker from 2014-18, and was one of the most feared members of Alabama's pass rush unit in his time with the team.
A four-star prospect from Columbia, SC, Miller was a part of the Tide's No. 1 2014 recruiting class, but redshirted as a freshman. After sitting on the sidelines for a year, Miller stepped into a larger role in his second season, appearing in 12 games, but not recording any stats.
As a sophomore, the 6-foot-4, 222 lb. linebacker earned a role on Alabama's special teams units and worked his way into the linebacker rotation more, seeing time in all of the Tide's games and finishing the year with 16 tackles, 2.5 TFL's and 2.0 sacks.
In his junior season, Miller suffered an arm injury in Week 1 against Florida State that sidelined him for most of the year. The Columbia native returned for Alabama's Week 11 game with Auburn and finished the season with 6 tackles, 2 TFL's and a sack.
In Miller's final season with the Tide, he appeared in all but one of Alabama's games. The senior compiled 36 tackles, 11.5 TFL's and 8.5 sacks while also recording a team-high 12 quarterback hurries. Though his season was cut short against Oklahoma in the first round of the College Football Playoff, Miller was a key member of the 2018 Crimson Tide defense.
After entering the 2019 NFL Draft, Miller was selected in the fourth round by the Carolina Panthers and played just one year before opting out of 2020 due to COVID-19 and being waived ahead of the 2021 season. The Steelers signed Miller to the practice squad shortly after his release, but the linebacker never found his way to the active roster.
As of now, Miller is a free agent looking for an NFL home. Although he lacks a lot of experience, having only seen consistent time in one full season at Alabama, the former four-star's skillset is still that of an NFL player and he could provide solid depth to a team's linebacking unit.
Stay locked in to Tide1009.com for the countdown to Alabama football. Check out the rest of the list here.
Iconic Photos From Alabama's 18 National Championships
Claimed or recognized, no FBS football program has more national championships than the Tide. Look back on all 18 titles in Alabama history with these photos.
Highest Rated Recruits of the Saban Era By Year
Check out Alabama's highest-rated recruit from each Crimson Tide recruiting class during the Nick Saban era.
More From 105.1 The Block