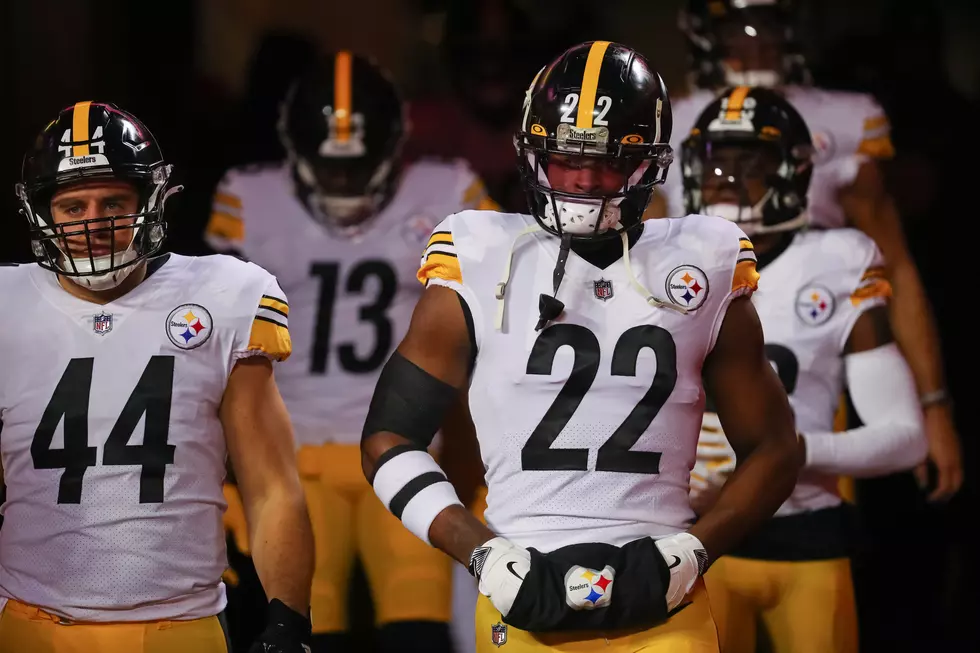 Steelers Head Coach Mike Tomlin Calls Najee Harris a "Born Leader"
Getty Images
Former Alabama running back Najee Harris is set to embark on his second season as the lead tailback for the Pittsburgh Steelers. Harris was selected with the 24th overall pick in the 2021 draft and he repaid the Steelers faith with a Pro Bowl season, rushing for 1200 yards and hauling in 467 yards receiving with 10 total touchdowns as a rookie.
Super Bowl champion head coach Mike Tomlin recently joined "The Pivot" and had some highly complementary comments about his second-year running back.
"Najee, he's a leader. He's a born leader. He's got good football morals. He sees the game the way we see the game. He wants to be a part of what's right. So that needs to be cultivated, that needs to be trained, but really, going back to last year I've challenged Cam Heyward to help him grow in that way," said Tomlin.
So what does that mean? What does that look like? We give of our time and our space to that young man. We're not going to ask him to lead without teaching him how to do it. What it looks like, what it entails. Not only in our words but in our actions. So, Cam Heyward and myself are opening up our time and our space to that dude. We're showing him the why, that we do what it is that we do. That dude's a bell-cow. He's going to have to be a bell-cow for us."
Heyward was drafted with Pittsburgh's first round pick in 2011 and has been a mainstay on the Steelers defense ever since. The Pittsburgh-native is a five-time Pro Bowler and has helped the Steelers win four AFC North championships during his tenure.
The 2020 Doak-Walker award winner will have even more responsibility with the Steelers offense in 2022 as the organization saw legendary quarterback Ben Roethlisberger retire after 18 seasons with the organization.
Alabama Crimson Tide All-Time Sacks Leaderboard
The Anti- Alabama Team
Alabama has lost 23 games while Nick Saban has been in charge. These athletes were pivotal in helping to secure a rare victory for their teams.
Scrolling and Rolling: SEC Coaches as Pop Songs
What if each SEC coach were a pop song? We're prepping for kickoff in the Druid City and across the Southeastern Conference by taking a look.
More From 105.1 The Block