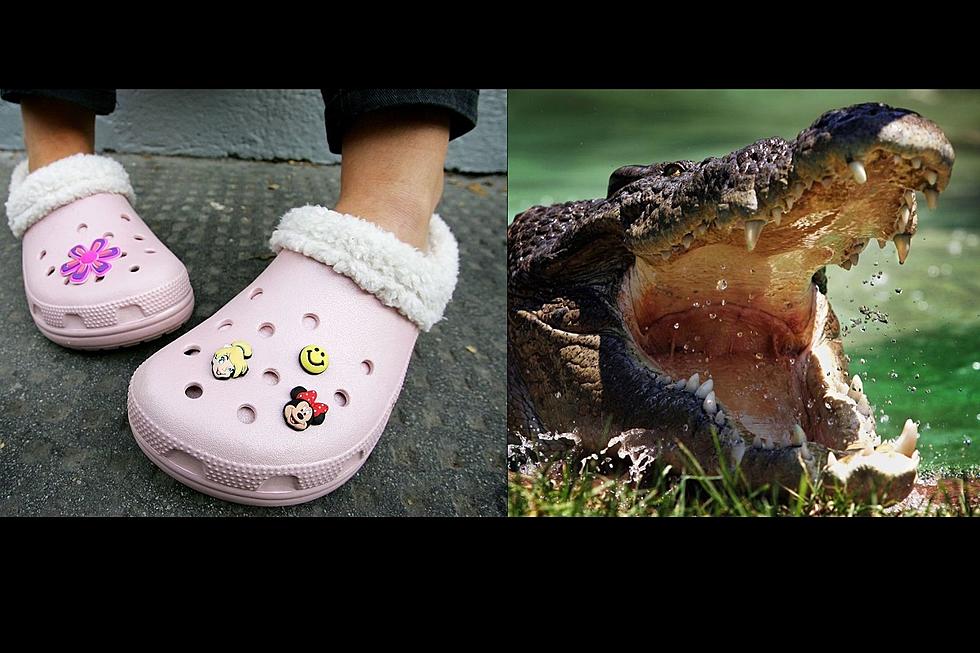 Why Are There So Many Crocs in Tuscaloosa, Alabama?
Crocs (Photo by Cate Gillon/Getty Images) Crocodile (Photo by Ian Waldie/Getty Images)
Seriously, why are Alabamians obsessed with crocs? It's like everyone here has an interest in crocs. In essence, it's the tale of two crocs.
It appears that Alabama has an obsession with two types of crocs. The animal and the shoe. Who knew? I think I might be in this group because I'm oddly intrigued about crocodiles and alligators. Also, I own a few pairs of crocs.
My fascination with alligators and crocodiles developed when I figured out the difference between the two. Alligators have u –shaped round snouts, while the crocodiles' snouts are v-shaped and long. How did I learn this? At a fishing tourist camp where my Dad would take us, and we would feed the alligators. That's crazy.
Since arriving in Tuscaloosa, there are have been several crocodile/alligator sightings.  My favorite park, Van De Graaff Park, has a sign warning you about the gators. Back in September 2020, even an alligator stole a bass fish from a local fisherman. Earlier this month, workers found a huge alligator near 35th Street. There was a gator sightings like at Lake Forest in Daphne. A Mobile homeowner found a gator in the pool. Also, in Summerdale, Alabama, there is a tourist attraction called Alligator Alley.
We are obsessed.
The other obsession is the shoe, crocs. According to Wishlisted, Alabama ranks "number 10 in search activity on google for Crocs." Not to mention, Alabamians that "folks in Alabama are obsessed with Crocs with Fur."
As for me, I love Crocs. They are super comfy. I have a black pair with my Alabama jibbitz. BTW, jibbits are the charms that adorn crocs. That's a whole other obsession that we can chat about later.
Now celebrities are all about their Crocs. I swear Nicki Minaj might have broken the internet when she posted this picture.
(Source) Click here for more from Wishlisted.
WATCH OUT: These are the deadliest animals in the world
LOOK: Stunning animal photos from around the world
From grazing Tibetan antelope to migrating monarch butterflies, these 50 photos of wildlife around the world capture the staggering grace of the animal kingdom. The forthcoming gallery runs sequentially from air to land to water, and focuses on birds, land mammals, aquatic life, and insects as they work in pairs or groups, or sometimes all on their own.
LOOK: 30 fascinating facts about sleep in the animal kingdom
Check out these 50 fascinating facts about dogs:
More From 105.1 The Block